Women's coffee mornings with art project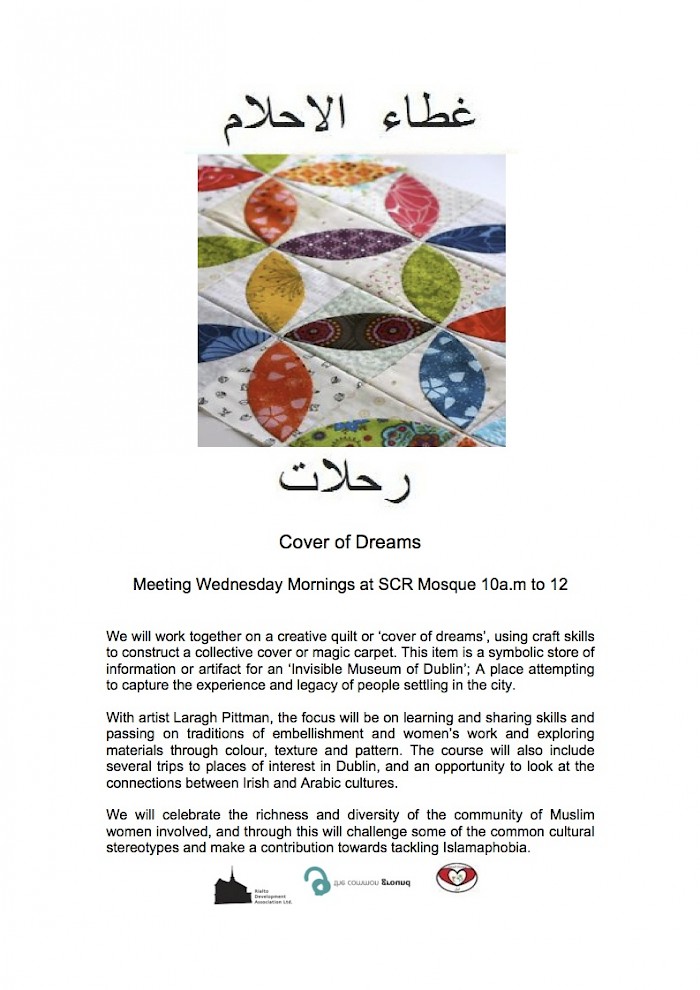 We are delighted to announce the Women's coffee mornings with an art project with Laragh, which will start on the 13th January 2015. Meeting every Wednesday morning at SCR Mosque from 10am to 12 am (starting 13th January 2016).
For those ladies not wishing to do art can also join us as this time, the morning will also include trips to museums and cafe as mentioned in below (and in the pdf file).
For further information, please feel free to contact the IFI Women's Department.
---
About the Art Project: Dream Cloak
We will work together on a creative quilt or 'dream cloak', using craft skills to construct a collective garment or magic carpet. This item is a symbolic store of information or artifact for an 'Invisible Museum of Dublin'; A place attempting to capture the experience and legacy of people settling in the city.
With artist Laragh Pittman, the focus will be on learning and sharing skills and passing on traditions of embellishment and women's work and exploring materials through colour, texture and pattern. The course will also include several trips to places of interest in Dublin, and an opportunity to look at the connections between Irish and Arabic cultures.
We will celebrate the richness and diversity of the community of Muslim women involved, and through this will challenge some of the common cultural stereotypes and make a contribution towards tackling Islamaphobia. 
---