Winter Camp for Girls
Islamic Foundation of Ireland is pleased to announce Winter Girls Camp for the girls aged 12 to18, starting Wednesday 3rd January 2018 at 1pm at Dublin Mosque.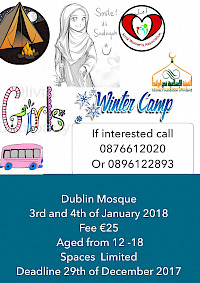 We have prepared an exciting new programme with a sleepover at the mosque and an outing following day on Thursday 4th January 2018, finishing up at 7pm.
The cost is only €25 per girl.
As the places are limited, we advise you to book early to avoid disappointment.
To apply, please COMPLETE PARENT CONSENT FORM and READ THE RULES AND REGULATION OF THE CAMP.
For further queries and information, please contact 087 661 2020 / 089 612 2893 or email your application details to amal.hope@outlook.ie or visit our Facebook page.