Winter Bazaar Fundraiser

Islamic Foundation of Ireland is delighted to announce fundraising bazaar to raise funds towards our extension project and also refugees in Ireland.
About the Bazaar
In this bazaar, we will be selling clothing/household items (such are small fridges, car seats, buggies, kitchen utensils etc) and we are grateful if the community or anyone wishes to donate items to raise funds for the mosque.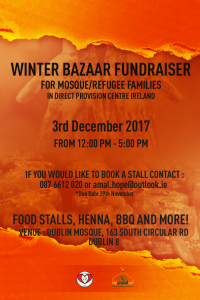 Date: 3rd December 2017
Time: 12-5pm
Venue: Dublin Mosque 
For further information and details contact 089 812 2893 / 087 661 2020 or email us HERE.
The following are suggested items that can be donated:
Used Toys & Books: We would appreciate if you could please ensure that all donations are in a good, clean condition. No broken toys or jigsaws with missing pieces please!
Jewellery: Any item of jewellery that is in good condition.
Home Baked Foods: Desserts, puddings, doughnuts, scones, bread, rice krispie buns, etc. are all welcome. 
Household Goods: Any household item that is in good and clean condition and useable
Donations will be collected in the week leading up to Sat 2nd December. Where possible, please let Sr. Nor & Sr. Hanan know in advance if you plan to donate cakes, baked goods, household etc.
Thank you all for all your help in making this Bazaar a truly successful fundraising event!