Primary school celebrates its 25th anniversary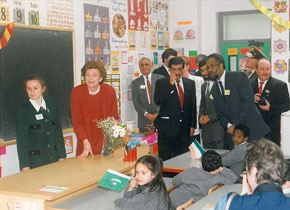 Officially opened in 1993, by then President of Ireland, Mrs. Mary Robinson, the first state-funded Muslim school in Ireland, the Muslim National School Clonskeagh this month celebrates its 25th anniversary. 
During her opening speech, President Robinson said:"With the traditional Muslim thirst for knowledge, learning and culture, it was only natural that members of the Muslim Community would feel the need for an education which would reflect the values of the Islamic faith. With the co-operation of the Department of Education this has now been fulfilled."
She said that she was conscious that the children, who welcomed her to their school, were both Irish and Muslims and that "they help to broaden our sense of Irishness, they enrich us with their strong and symbolic sense of culture and ideals."
---
This month the school will celebrate its anniversary with two fantastic events on Tuesday and Wednesday, 22nd & 23rd March 2016 both featuring the photo exhibition of the school going over the past 25 years. In order to mark the occasion, the school has recorded special limited edition school choir CD which will be available for sale on both days.
The first event on Tuesday, 22nd March will be held exclusively for the former pupils of the school and in addition to the photo exhibition, will include complimentary food and drink.
The second event on Wednesday, 23rd March is for the parents and will include snacks and drinks.
For full details please see the attached poster.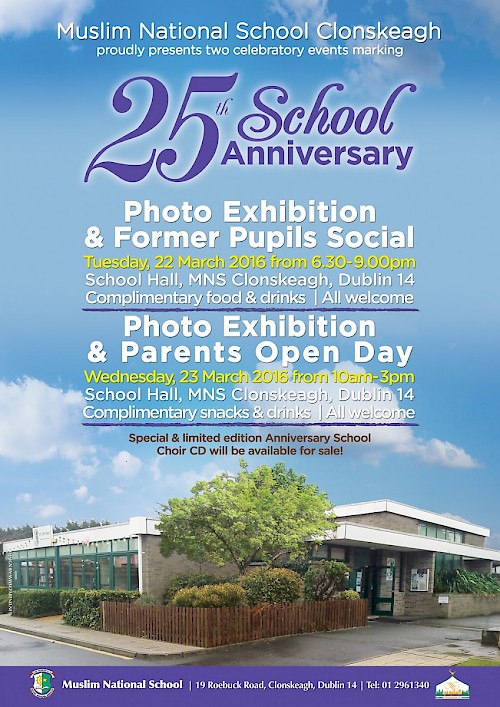 For more about the history of the school, please see here.