Press Release (Jerusalem)
PRESS RELEASE STATEMENT
The US Government has recently announced their position in relation to Jerusalem as intended to be the capital of the state of Israel.
The announcement comes from the US as an Official Mediator in the Middle East conflict, acting unilaterally, without consultation with the main party concerned in the conflict that is the Palestinian side.
Further, this announcement defies the united position of the international community as set out in the security resolutions for Jerusalem to be the capital of both the Israeli and the future Palestinian state.
The Islamic Foundation of Ireland finds this announcement outrageous, ill-advised and extremely biased.
We, therefore strongly denounce and condemn this stance taken by the US, which can only bring the region into further conflict and seriously affect any hope for a two-state peaceful solution.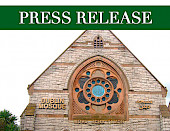 For and on behalf of the Islamic Foundation of Ireland
Mohamed AbuAdlan (PR Spokesperson)
07th December 2017