Mr Mian Ghulam Bari Death Notice
Inna lillahi wa inna ilayhi raji'un (إِنَّا لِلَّٰهِ وَإِنَّا إِلَيْهِ رَاجِعُونَ‎)
"Surely to Allah we belong and to Him we will [all] return" (The Noble Qur'an, 2:156)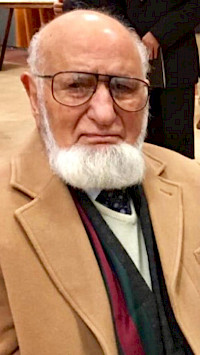 The passing of Mr Mian Ghulam Bari.
It is with great sadness that, we at the Islamic Foundation of Ireland have learned of the passing of Mr Ghulam Bari in the early hours of Wednesday, 2nd June 2021.
Ghulam Bari has been a prominent member of the Muslim community since his arrival in Ireland in 1974. He served on the Majlis ash-Shura (council) of the Islamic Foundation of Ireland as well as heading the Pakistani Association of Ireland for many years.
He has generously contributed towards many projects of the community including the establishment of the Blackpitts Mosque in Dublin 8.
We ask Allah Subhanahu wa ta'ala to accept his contributions and all his good deeds and to grant him Janatul Firdaus.
Our deepest condolences to his extended family and friends. May Allah grant them patience at this difficult time.
The funeral prayer will be held tomorrow, Thursday, 3rd June 2021 @ 12:30pm at Clonskeagh Mosque (ICCI).
The Islamic Foundation of Ireland