Mental Health Awareness 2017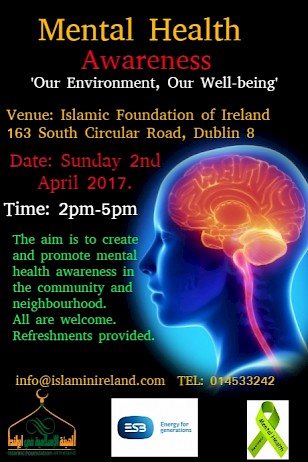 Mental Health Awareness (MHA) 2017
Islamic foundation of Ireland (IFI) is aware of the challenges that people in the community might be facing in relation to health and as such IFI is presenting Mental Health Awareness 2017. This will replace the Annual Health Screening Programme this year.
The IFI has arranged various information and awareness workshops in March and April 2017.  
The first seminar will be held on 2 April 2017 from 2pm-5pm
The second seminar will be held on 7 May 2017 (time yet to be confirmed)
We also plan private consultation days to provide one to one visit to see Doctors, Health Officer or Social Welfare Officer in order to discuss any issues you might have in absolute privacy and confidentiality.
We would like all community leaders in the Dublin mosque area and it's neighbourhood to be part of these awareness days and keep every member in their community informed of this programme.
It is time we start talking about our environment, our health and the impacts the environment has on our household.  Let's start the conversation to address the issue, for a cleaner and healthier environment.
Theme: Our Environment - Our Well-being
Make it your responsibility to let the Muslim groups or organisations help create awareness of the programme taking part in the IFI Dublin- South Circular Mosque.  May Allah reward you for encouraging others to benefit from this programme so that we can have a better and risk-free environment.
For further information, please email Sr. Nor Nasib (Co-ordinator) on 01 - 4533 242.
For facebook details visit: ​https://www.facebook.com/events/262568167529539/

This year mental health awareness is being kindly sponsored by Electricity Supply Board (ESB).
The Committee
Mental Health Awareness
Islamic Foundation of Ireland