Living Islam as a Muslim Youth Lecture
The Islamic Foundation of Ireland presents an exciting lecture dedicated to Muslim Youth and parents on 16th September 2017 by brother Tafazal Mohamed, a Muslim Youth leader from the UK.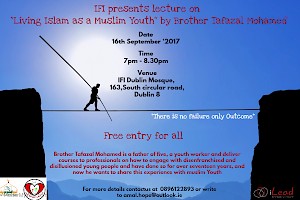 Date: 16th September 2017
Time: 7 - 8.30 pm
Title: Living Islam as a Muslim Youth
For more details please see the leaflet.
Please spread the news so more people can benefit from this lecture Insha Allah. For further information please contact the office or email us.