Eid ul-Adha 2016 at the IFI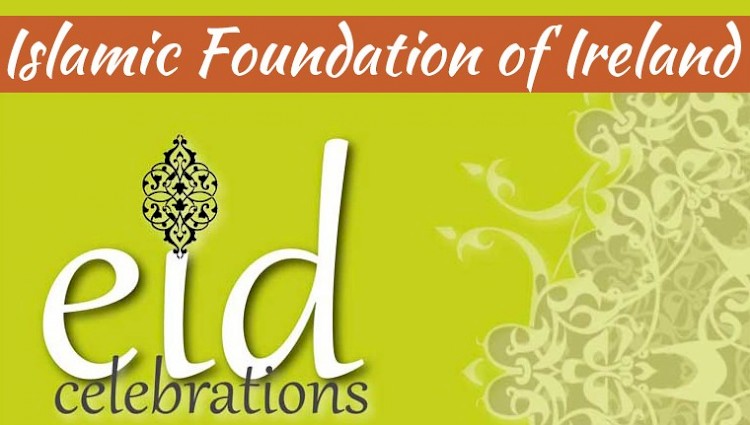 Insha'Allah the Islamic Foundation of Ireland (IFI) will be organising the Eid celebration on Eid day (either Sunday 11th or Monday 12th September 2016 (subject to moon sighting)
Program for the Eid day Celebrations at Dublin Mosque is as follows:
Eid prayer schedule:
- There will be two Eid prayers at 8:30 a.m. and 9:30 a.m. (8:30 am First Eid prayer for the first group & 9:30 am Second Eid prayer for the second group)
DO COME EARLY AS PARKING IS LIMITED AT THE STADIUM
- 10:30 am Tea, Coffee and sweets will be served after the second prayer
- 11:30 am Goody bag will be given to the kids on first come first serve basis
Eid celebration location:
The Iveagh Grounds, in Crumlin, Dublin 12 (across the AIB bank at Crumlin Road). 
Eid celebration programme (12.30pm-5pm):
12:30 pm The food stalls start operating until 5pm
12:30pm - 5:00pm Games, trampoline and bouncy castle
1:50 pm Dhuhur prayer
2:00 pm - 4:00 pm Puppet show and face paintings for the kids
5:00 pm End of program as cleaning starts before asar prayer
6:00pm Asr prayer at the mosque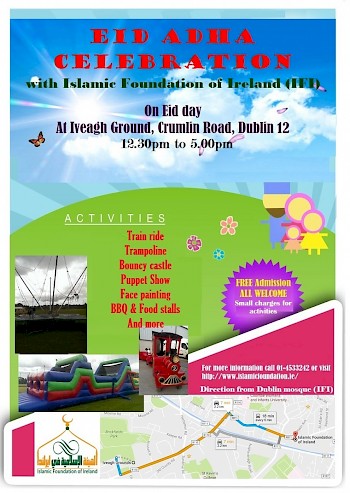 Parking: is located on the grounds of the club for €2 (whole day) or the Crumlin shopping centre just 5 minutes away. 
Bus & Luas:
Bus - There is a Bus Stop right outside our gates which is served by the 27, 56a, 77a and 151.
Luas - The club is within walking distance from the Drimnagh, Goldenbridge and Suir Road Luas Stops.
For direction click below:
https://goo.gl/maps/p8M8Q7dscJT2
**If you interested in selling toys, books, wares, sweets, drink or Islamic materials on the Eid Celebration please email the form filled back to me Nor Nasib in the email ifisisters@islaminireland.com before Friday 2nd September 2016 so that we can process the form and sent approval letter.
We need to know what you are selling to promote it on the Eid Celebration page and on IFI Facebook page. The standard stalls cost €20 and Food Stalls €30 for the day, which need to be paid to IFI by Wednesday 7th September 2016
*** We are looking for volunteer to help on the Eid day and we will have the meeting this Sunday 28th August after Asar in library in the mosque. 
PM me if you want to help
Hope to see you then! InshaAllah
Administration