Eid ul-Adha 2015
كل عام وأنتم بخير  -   عيد مبارك
The Islamic Foundation of Ireland is pleased to announce that Eid ul-Adha will be on Thursday 24th of September 2015 in'sha Allah. Islamic Foundation of Ireland would like to wish all the Muslim, Happy and Blessed Eid: Taqabbala Allah minna wa minkum (May Allah s.w.t. accept all your good deeds from us and from you) and may He ease the suffering of all the people across the globe.
We also would like to wish all this year's Hujjaj - Eid Mubarak and Hajj Mabrur.
Eid Day Programme
There will be two Eid prayers performed at the Dublin Mosque: at 8.30am & 9.30am
Complimentary coffee/tea & sweets will be served after the second prayer and for the full schedulle of the Eid activities, please see the leaflet.
Eid Parking
Parking will be available on the Eid Day at the Stadium. Please be considerate to our neighbours while parking - you have commitments towards your neighbours. A Muslim should not disturb his/her neighbour by e.g. parking vehicles in no parking zones, blocking drive ways and footpaths. Please follow the instructions of the Gardai on duty outside the mosque.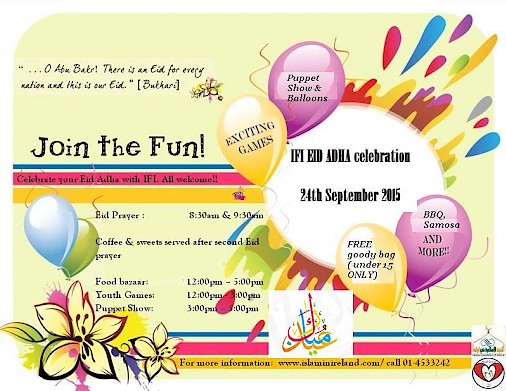 The excellence of good deeds in the first ten days of Dhul-Hijjah
Ibn 'Abbas reports that the Prophet (saws) said: "No good deeds done on other days are superior to those done on these days [meaning the ten days of Thul-Hijjah]." The companions asked: "O Messenger of Allaah (saws), not even jihaad in the way of Allaah?" He said: "Not even jihad, save for the man who puts his life and wealth in danger [for Allaah's sake] and returns with neither of them." [Sahih Al-Bukhari: vol.2, pp.45-6 , no. 86] 

Ahmad and At-Tabaraanee record from Ibn 'Umar that the Messenger of Allaah (saws) said: "There is no day more honorable in Allaah's sight and no acts more beloved therein to Allaah than those in these ten days. So say tahleel ["There is no God but Allaah"], takbeer [Allaah is the greatest] and tahmid ["All praise is due to Allaah"] a lot [on those days]." [Irwaaul Ghaleel: vol. 3, pp. 398-9.]
The above was taken from the book: THE TWO 'EIDS AND THEIR SIGNIFICANCE by Abdul Majeed Alee Hasan which can be downloaded here.