Eid Gift Project 2018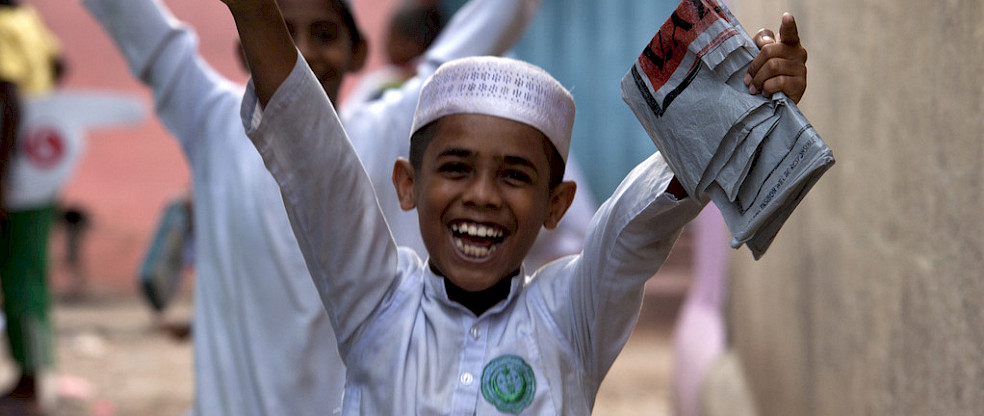 The Islamic Foundation of Ireland and Amal Ireland would like to invite you to take part in a very special Eid Project - where everyone can participate and make someone happy on the Eid day!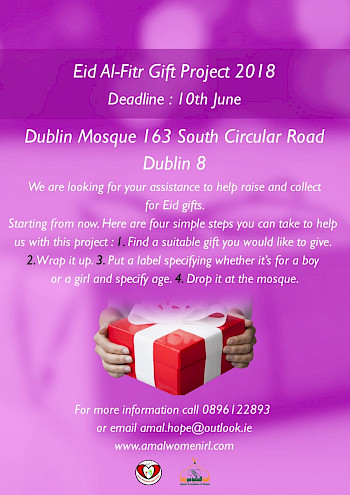 As you know, Eid al-Fitr (the Festival of Fast-Breaking) is a very special time of year for Muslims: a day of great merriment and thanksgiving.

It is also a day of sharing and showing support and solidarity to each other and in this spirit, we would like to offer as many families as possible a chance to enjoy those celebrations and to start feeling safe and at home.

With that in mind, we wish to collect at least 250 - 350 gifts in'sha Allah to ensure all children and youth in the refuge Centre are looked after. We already manage to get some donations from people who donated to us for the Ramadan food packs, but we need more assistance in making sure everyone gets their gifts in'sha Allah,

We are looking for your assistance to help raise and collect these Eid Gift (for children from 6 months to 15 years).
Here are 4 simple steps you can help us with this project:
Step 1: Find suitable gift you like to give
Step 2: Wrap it in a box
Step 3: Put label whether it is for boy or girl and age
Step 4: Drop it at Dublin mosque, 163 South Circular Road, Dublin 8

Please contact us at 089 612 2893 if you like to give cash or email us to notify us that you want to drop off the presents.

You can also donate online by visiting: https://www.gofundme.com/5lzyxyw

Deadline: 10th June 2018 (might be extended if we don't reach the target)

If you are in any position to support us please do, no contribution is too small; it will be greatly appreciated. We are available to meet to talk about it in more details.
Thank you in advance for your generosity and support.
Watch our 2018 Ramadan Project:
(Delivery of Ramadan bags to refugee camps and crisis centres)