North Dublin Muslim National School
The North Dublin Muslim School was opened in September 2001 with 3 classrooms and 3 teachers. The School is the second state-funded Muslim school in Dublin and Ireland and it is a co-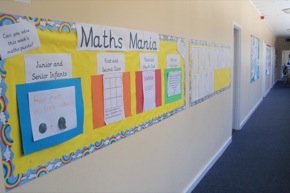 educational school under the Trusteeship and Patronage of the Islamic Foundation of Ireland. 
It has started as a response to the growing need of the Muslim community in Ireland. The large numbers on the admission waiting lists of the Muslim National School in Clonskeagh have confirmed a need for additional Muslim national schools in the greater Dublin area, especially in the north Dublin area.
Teachers' salaries, rent of the premises and the costs of transportation are borne by the Department of Education. There are 130 Pupils in the School at present who are being taught by 11 class-teachers. The Qur'an, Deen and Arabic wre taught by two part-time Muslim teachers. 
The school receives capitation and other grants from the Department of Education on the same basis as other national schools. The Department of Education is seeking a permanent/semi permanent accommodation for the School.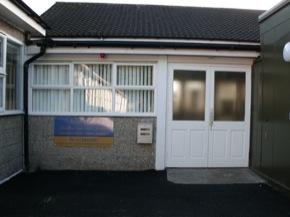 There are a number of buses to transport the children to the School; from Lucan, Blanchardstown and the city.
School Aims

The Co-Managers, Teachers, Religion Department, SNAs, Parents and Pupils of the North Dublin Muslim National School seek to:
Nurture an Islamic way of being, leading towards the holistic development of the child.
Develop an appreciation of creation in all its forms.
Encourage the growth of the children as individuals and as good citizens.
Foster an environment in which honesty, respect and acceptance are core values.
Develop an understanding, acceptance and appreciation of cultural diversity.
Provide a safe and nurturing environmeny where each child can develop apositive self-esteem, a sense of empathy and the ability to interact socially with confidence.
Enrolment Policy:
A student secures a place in the school solely on a first come first served basis. The school maintain two lists each year; one for Junior Infants and one for non-Junior Infants. The parent or guardian must sign the pre-enrolment form. No pre-Enrolments are taken over the phone.

School Curriculum:

Like its sister, the Muslim National School, the school follows the rules for National Schools Curriculum. In addition to the national curriculum for primary schools, the school provides a religious education programme. This programme covers a range of religious, social and moral issues from an Islamic perspective.
Board of Management:
The Current Board of Management is composed of the following: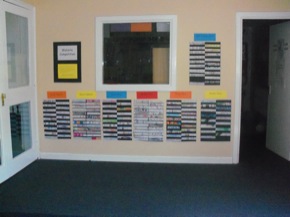 1) Dr. Faheem Bukhatwa             Chairperson and Patron's Nominee.
2) Ms. Norma Murphy                Acting Principal.
3) Mr. Adel Mahrouk                  Patron's Nominee.
4) Ms. Aoife Caulfield                  Teachers' Representative.
5) Mr. Adel Zeghni                     Parents' Representative.
6) Ms. Hidayat Idrees                 Representative.
7) Mr. Syed Muhammad Abid       Co-opted Member.
8) Mr. Sajid Khan                       Co-opted Member.
The term of office of the Board of Management is for four years (from Dec. 2008 to Dec. 2012.)